Main content starts here, tab to start navigating
Join us during Restaurant Week, running from October 13th through the 18th, and enjoy three-course tasting menus during lunch and dinner*. Check out the menus below, and make your reservations today!
*Please note that the full dinner menu will not be available, but we will offer a limited a la carte menu for those not interested in Restaurant Week (posted at the bottom of this page). The regular lunch and brunch menus will be available as usual. Reservations highly recommended.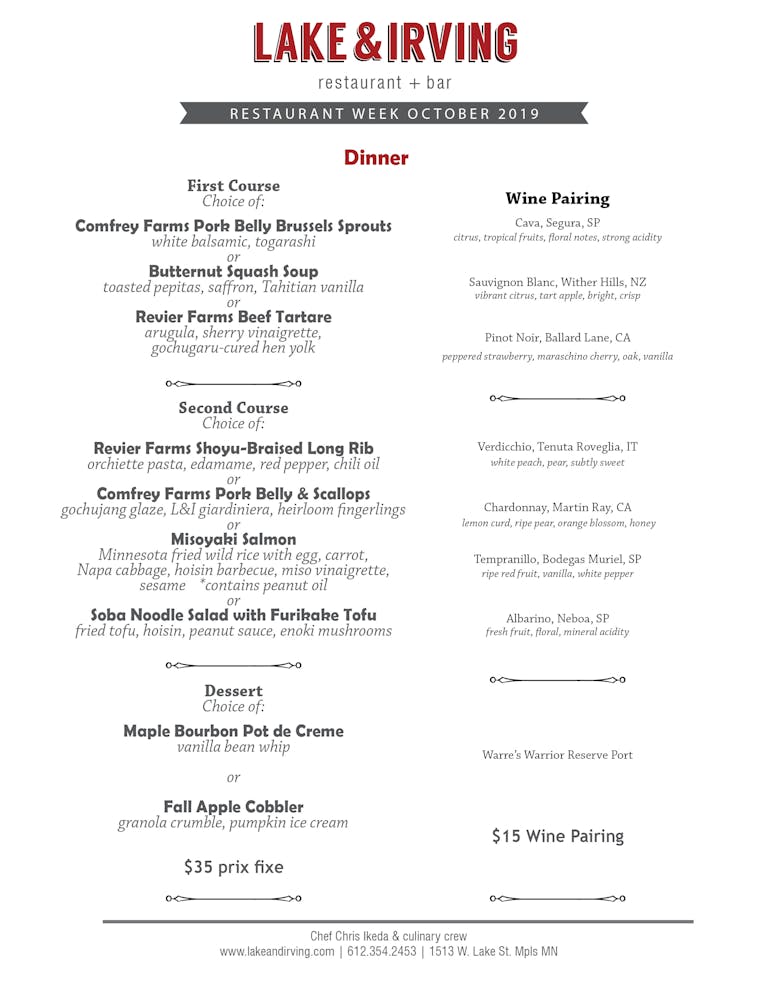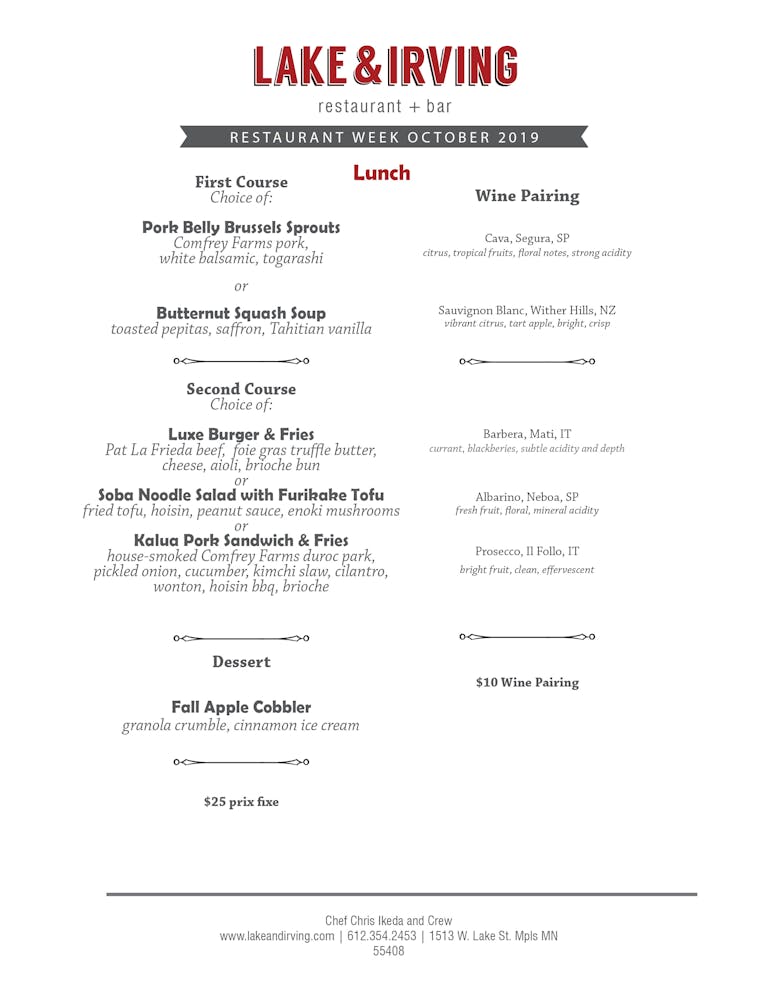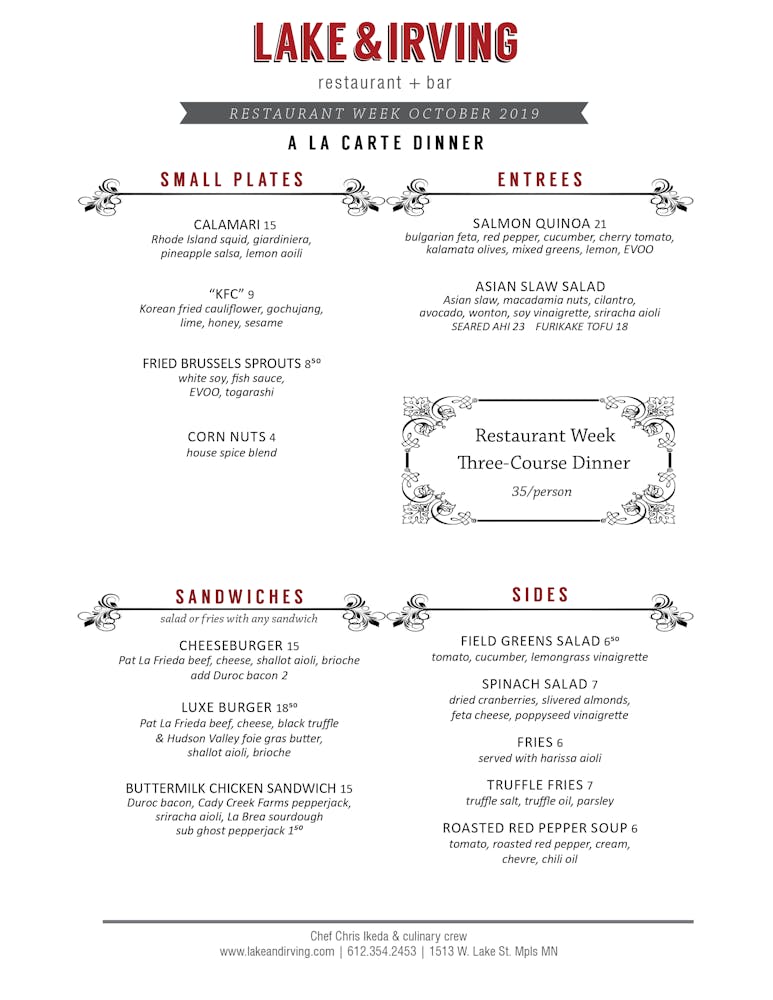 Small Plates
Ahi Poke Nachos

wonton, avocado, red onion, cilantro, sriracha aioli, furikake, pickled jalapeno

$14

Honey Walnut Shrimp

candied walnuts, togarashi, tempura shrimp

$13

Furikake Chicken

Wild Acres chicken thigh, kabayaki glaze, sesame seed

$11

Calamari

Rhode Island squid, giardiniera, pineapple salsa, charred citrus aioli

$15

"KFC"

Korean fried cauliflower, Gochujang, lime, honey, sesame

$9

Fried Brussel Sprouts

White soy, fish sauce, togarashi

$9

HAWAIIAN PORK HASH DUMPLINGS

pork-shrimp hash*, Chinese hot mustard, garlic ponzu *contains macadamia nuts

$12
Sandwiches
Salad or fries with any sandwich
Cheeseburger

Pat La Frieda beef, cheese, shallot aioli, brioche bun

$16

add Duroc bacon $2

Buttermilk Chicken Sandwich

Duroc bacon, Cady Creek Farms pepperjack, sriracha aioli, La Brea sourdough

$15

sub ghost pepperjack $1.50

Caprese Panini

Mozzarella, tomato, macadamia nut pesto, La Brea sourdough

$14

add Duroc bacon $2

Luxe Burger

pat la frieda beef, cheese, black truffle & hudson valley foie gras butter, secret sauce, brioche

$19
Entrees
Market Fish

dailyy rotating seafood special; ask your servers for details and price

Misoyaki Salmon

Minnesota fried wild rice with egg, carrot, napa cabbage, hoisin barbecue, miso vinaigrette, sesame *contains peanut oil

$26

'Loco Moco'

Pat la freida beef patties, coconut shrimp, fried egg, furikake sushi rice, Japanese curry gravy

$23

Revier Farms Long Rib

Revier Farms beef, shoyu cream, charred broccolini, shiitake mushroom fregola

$28

Wild Acres Half Duck

5-spice pekin duck breast, crispy duck leg confit, stir-fried egg noodles, swiss chard

$30

Salmon Quinoa

bulgarian feta, red pepper, cucumber, tomato, kalamata olives, mixed greens, lemon, EVOO

$23

Steak Salad

Revier Farms hanger steak, tobacco onion, tomato, pickled red onion cucumber, Faribault Caves bleu cheese, peppercorn dressing

$19

Asian Slaw Salad

Asian slaw, soy vinaigrette, macadamia nuts, wonton, cilantro, avocado, sriracha aioli

Seared Ahi $23

Furikake Tofu $19
Sides
Field Greens Salad

mixed greens, tomatoes, cucumbers, lemongrass vinaigrette

$7

Spinach Salad

almonds, dried cranberries, feta cheese, poppyseed vinaigrette

$7

Tomato & Red Pepper Soup

tomato, roasted red pepper, cream, chevre, chili oil

$6

Fries

served with ketchup and harissa aioli

$6

Furikake Sushi Rice

garlic ponzu

$4

Truffle Fries

$7
Please notify your server of any dietary needs. Consuming raw or undercooked food may increase your risk of foodborne illness.
Breakfast
Kalua Pork Hash

Comfrey Farms smoked duroc pork, mole verde, guacamole, tomatoes, cotija cheese, poached egg, pickled jalapenos, breakfast potatoes, wild rice wheat toast

$15

Breakfast Sandwich

Lowry Hills sausage patty, bacon, sous vide scrambled egg, american cheese, shallot aioli, brioche, breakfast potatoes

$15

Ghost Bowl

Breakfast potatoes, two fried eggs, american cheese, bacon, tomatoes, guacamole, pickled red onion, ghost pepper aioli

$15

Eggs Benedict

Poached eggs, Canadian bacon, hollandaise, breakfast potatoes

$14

Garden Scramble

3 eggs, Sonoma chevre, baby spinach, shiitake mushrooms, tomatoes, wild rice wheat toast, breakfast potatoes

$14.50

Classic Eggs & Bacon

Two eggs any way, breakfast potatoes, duroc bacon, wild rice wheat toast

$12

Substitute bacon for: Lowry Hill Meats sausage $3

Substitute bacon for: bavette steak $6

Chicken & Waffles

green onion, bacon bits, syrup

$14

100% Vermont maple syrup $2

Breakfast Burrito

chorizo, eggs, tomato, cotija cheese, salsa rojo, avocado crema, breakfast potatoes

$14.50

Weekly Waffle

rotating house waffle, syrup

$11

100% Vermont maple syrup $2

Today's Omelette

Breakfast potatoes, wild rice-wheat toast

$12
Sides
Two Eggs

$3.50

Breakfast Potatoes

$3

Duroc Bacon

$5

Lowry Hill Meats Sausage

$6

French Fries

served with harissa aioli

$6

Field Greens Salad

mixed greens, tomatoes, cucumbers, lemongrass vinaigrette

$7

Fruit Bowl

$5

Hash Brown Patties

$5
Lunch
All sandwiches served with fries or salad.
Cheeseburger

Pat la Frieda beef, cheese, shallot aioli, brioche

$16

Add Duroc bacon $2

Buttermilk Chicken Sandwich

Duroc bacon, sriracha aioli, cady creek farms pepperjack, La Brea sourdough

$16

sub ghost pepperjack cheese $1.50

Luxe Burger

Pat la Frieda beef, cheese, black summer truffle & Hudson Valley foie gras butter, shallot aioli, brioche

$19

Salmon Quinoa

bulgarian feta, red pepper, cucumber, tomato, kalamata olives, mixed greens, lemon, EVOO

$23
Beverages
Cocktails
Bedrock Fizz

Aperol, grapefruit juice, lemon, sparkling rose

$8

Country Club

Vodka or gin, grapefruit crema, lemon, prosecco

$9

Penny Lane

Vodka blend, campari, orange liqueur, strawberry shrub, lemon, bubbles

$9

Cafe Italiano

Coffee liqueur, amaro, whiskey blend, cold press, seltzer

$9

Orange You Glad

Gin, orange crema, dry curacao, orange, lemon, orange bitters

$10

I Didn't Say Banana

Rum blend, coconut water, banana liqueur, lime

$9

Treaty of Versailles

Vodka, grapefruit cordial, lemon, bubbles

$9
Other Options
Juice

Grapefruit, orange, cranberry, pineapple

$4

Hot Tea

$3.50

Peace Coffee

$4

Bloody Mary

$8

Ghost Bloody

$9

Michelada

$7

Mimosa

$8
Sandwiches
Choice of salad or fries with any sandwich
Cheeseburger

Pat La Frieda beef, cheese, shallot aioli, brioche bun

$16

add Duroc bacon $2

Luxe Burger

Pat La Frieda beef, cheese, black summer truffle & Hudson Valley foie gras butter, shallot aioli, brioche

$19

Buttermilk Chicken Sandwich

Duroc bacon, Cady Creek Farms pepperjack, sriracha aioli, La Brea sourdough

$16

sub ghost pepperjack cheese $1.50

Caprese Panini

Mozzarella, tomato, mac nut pesto, La Brea sourdough

$14

add Duroc bacon $2

B.L.A.T.

Smoked duroc bacon, avocado, tomatoes, mixed greens, lemon aioli, wild rice wheat bread

$14

Kalua Pork Sandwich

Comfrey Farms smoked duroc pork, pickled red onion, cucumber, kimchi slaw, cilantro, wonton, hoisin bbq, brioche

$15
Small Plates
Fried Brussels

White soy, fish sauce, togarashi

$9

Calamari

Rhode Island squid, giardiniera, pineapple salsa, citrus aioli

$15

Furikake Chicken

Wild Acres chicken thigh, kabayaki glaze, sesame seed

$11

"KFC"

Korean fried cauliflower, gochujang, lime, honey, cilantro, sesame

$9

Corn Nuts

dehydrated cayenne

$4

Roasted Red Pepper Soup

red pepper, tomato, cream, chevre, chili oil

$6
Cocktails
Bedrock Fizz

Aperol, grapefruit juice, lemon, sparkling rose

$8

Cafe Italiano

coffee liqueur, amaro, whiskey blend, cold press, seltzer

$9

Country Club

Vodka or gin, grapefruit crema, lemon, prosecco

$9

Penny Lane

vodka blend, campari, orange liqueur, strawberry shrub, lemon, bubbles

$9

Orange You Glad

Gin, tattersall orange crema, dry curacao, orange, lemon, orange bitters

$10

I didn't say Banana

rum blend, coconut water, banana liqueur, lime

$9

Treaty of Versailles

vodka, grapefruit cordial, lemon, bubbles

$9
Salads
Salmon Quinoa Salad

bulgarian feta, red pepper, cucumber, tomato, kalamata olives, greens, lemon, EVOO

$23

Asian Slaw Salad

Asian slaw, soy vinaigrette, macadamia nuts, wonton, cilantro, avocado, sriracha aioli

Seared Ahi $23

Furikake Tofu $19

Cobb Salad

Wild Acres smoked turkey, field greens, bacon, tomato, egg, avocado, cucumber, white cheddar, buttermilk dressing

$17

Steak Salad

Revier Farms hanger steak, tobacco onion, tomato, pickled red onion cucumber, bleu cheese, peppercorn vinaigrette

$21
Brunch
Brunch items available until 2:30
Ghost Bowl

breakfast potatoes, two fried eggs, american cheese, bacon, guacamole, tomatoes, pickled red onion, ghost pepper aioli

$15

Breakfast Sandwich

Lowry Hills sausage patty, bacon, sous vide scrambled egg, american cheese, shallot aioli, brioche, breakfast potatoes

$15

Chicken & Waffles

bacon bits, green onion, syrup

$14

100% Vermont maple $2

Classic Eggs

Two eggs any way, breakfast potatoes, Duroc bacon, wild rice-wheat toast

$12

sub Lowry Hills sausage $3

sub bavette steak $6

Today's Omelette

Mixed green salad or breakfast potatoes, wild rice wheat toast

$12
Sides
Fries

served with harissa aioli

$6

Truffle Fries

$7

Field Green Salad

mixed greens, tomatoes, cucumbers, lemongrass vinaigrette

$7

Spinach Salad

slivered almonds, dried cranberries, feta cheese, poppyseed vinaigrette

$7

Breakfast Potatoes

$3

Two Eggs Any Style

$3.50

Fruit Bowl

$5
Other Options
Juice

Orange, grapefruit, pineapple, cranberry

$4

Hot Tea

$3.50

Peace Coffee

$4

Peace Coffee Yeti Cold Brew

$5

Bloody Mary

$8

Ghost Bloody

$9

Michelada

$7

Mimosa
Small Plates
Fried Brussels

White soy, EVOO, togarashi

$9

Furikake Chicken

Wild Acres chicken thigh, kabayaki glaze, sesame seed

$11

"KFC"

Korean fried cauliflower, gochujang, lime, honey, sesame

$9

Corn Nuts

house spice blend

$4

Fries

Harissa aioli & ketchup

$6

Truffle Fries

$7

Barn Burner Fries

Ghost pepper aioli, cayenne pepper powder

$7
Sandwiches
Choice of salad or fries with any sandwich
Cheeseburger

Pat La Frieda beef, cheese, shallot aioli, brioche bun

$16

add Duroc bacon $2

Buttermilk Chicken Sandwich

Duroc bacon, Cady Creek Farms pepper jack, sriracha aioli, La Brea sourdough

$16

sub ghost pepperjack cheese $1.50

Caprese Panini

Mozzarella, tomato, mac nut pesto, La Brea sourdough

$14

add Duroc bacon $2

Luxe Burger

pat la frieda beef, cheese, black summer truffle & hudson valley foie gras butter, shallot aioli, brioche

$19

B.L.A.T.

smoked duroc bacon, avocado, tomatoes, mixed greens, lemon aioli, wild rice wheat bread

$14
Soup & Salad
Salmon Quinoa

bulgarian feta, red pepper, cucumber, tomato, kalamata olives, mixed greens, lemon, EVOO

$23

Steak Salad

Revier Farms hanger steak, tobacco onion, tomato, pickled red onion, cucumber, bleu cheese, peppercorn vinaigrette

$21

Asian Slaw Salad

Asian slaw, macadamia nuts, cilantro, avocado, wonton, soy vinaigrette, sriracha aioli

Seared Ahi Tuna $23

Furikake Tofu $19

Field Green Salad

Tomato, cucumber, lemongrass vinaigrette

$7

Spinach Salad

Slivered almonds, feta, dried cranberries, poppyseed vinaigrette

$7

Roasted Red Pepper Soup

red pepper, tomato, cream, chevre, chili oil

$6
Cheesecake

seasonal flavor, fresh berries

$9

Chocolate Torte

Sebastian Joe's ice cream, Hawaiian alae salt, macadamia nuts

$8.50

Sebastian Joe's Ice Cream

Seasonal Selection*

Scoop $3

Creme Brulee

seasonal flavor, fresh berries

$7

Root Beer Float

root beer, Sebastian Joe's vanilla ice cream

$6
Drinks
House Wines

$7

Surly Hell

$4

Steel Toe Size 7

$4

Boiler Maker

Hamm's or PBR & a shot of whiskey

$6
Food
Furikake Chicken

$8

Fried Brussel Sprouts

$6

Truffle Fries

$6

Barn Burner Fries

Ghost chili aioli, cayenne pepper powder

$6

Corn Nuts

$3
9pm-10pm Mon-Wed, 10pm-10:30pm Thurs-Sat
Cheeseburger

Pat La Frieda beef, cheese, shallot aioli, brioche bun

$16

add Duroc bacon $2

Luxe Burger

pat la frieda beef, cheese, black summer truffle & hudson valley foie gras butter, shallot aioli, brioche

$19

Buttermilk Chicken Sandwich

Duroc bacon, pepperjack, sriracha aioli, sourdough

$16

sub ghost pepperjack cheese $1.50

Caprese Panini

Mozzarella, tomato, mac nut pesto, sourdough

$14

add Duroc bacon $2

Furikake Chicken

Wild Acres chicken thigh, kabayaki glaze, sesame seed

$9

Corn Nuts

Dehydrated cayenne powder

$4

Fries

Ketchup & harissa aioli

$6
Breakfast
Served 9:00AM-3:00PM Sat & Sun, 11:00AM-2:30PM Mon-Fri
Half Belgian Waffle

fresh berries, log cabin syrup

$6

Kid's Breakfast

two pieces of Duroc bacon, one egg any style, toast

$7

Fruit Bowl

mixed seasonal fruit

$5
Lunch & Dinner
served every day open-close
Grilled Cheese & Soup

American cheese, sourdough, red pepper & tomato soup

$7

Chicken Tenders

BBQ sauce, french fries

$7

Cheeseburger

Pat La Frieda beef, cheese, brioche, fries or salad

$7

Add Duroc bacon $2

Buttered Noodles

pasta, butter, parmesan

$7