Main content starts here, tab to start navigating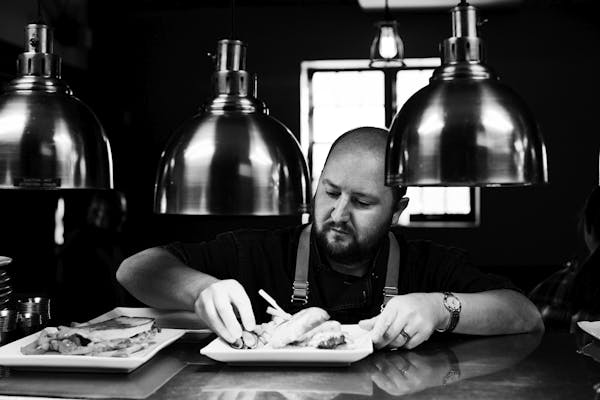 Chris Ikeda
Owner & Culinary Director
Chris has been in the foodservice business for over 20 years. He started by washing dishes and bussing tables at a Perkins restaurant at 14 years old. By 15, he had graduated to prep cook and kept moving up the ranks. His lifelong dream was to open his own restaurant, so he enrolled in the University of St. Thomas entrepreneurship program. Upon graduation, he enrolled in one of the top cooking schools in the world, The Culinary Institute of America in New York. His love affair with Asian cuisine began soon after when he staged at Morimoto's in the Meatpacking District of New York, NY. This was only intensified by several trips to Japan with his older brother.
Chris eventually moved to Hawaii and began an apprenticeship with Chef Alan Wong at Hualalai Resort, who was one of the original founders of Hawaiian Regional Cuisine. The mixture of all the different ethnic influences coupled with fresh island produce, tropical fruits, and fresh seafood was exactly what he was looking for. Chris' favorite days were those spent spearfishing a fresh Uhu or Tako and then preparing it that night, or going on farm tours and seeing firsthand the passion people have for the foods they cultivate. He spent many wonderful years at Hualalai Resort in many different restaurants and helped develop many concepts along the way. His Hawaiian-born Executive Chef and mentor, James Ebreo, taught him everything he needed to know and more.
Chris spent many wonderful years at Hualalai. After Alan Wong left Hualalai, he moved to a private residence fine dining restaurant called Keolu Clubhouse. His clients consisted of many CEOs and celebrities (Steve Jobs, Bill Gates, Charles Schwab, Megan Fox, Christina Aguilera, Conan O'Brien, and Robert Deniro, to name just a few). Keolu also allowed him to work with some of the most talented chefs in the world. He had the opportunity to meet up with his old New York mentor, Morimoto, for a special event. He also served caviar alongside of Daniel Boulud and helped Ludo Lefebrve open LudoBites 9.0, a pop-up restaurant at the Hualalai Grille.
"In my quest to become a chef, I have always remained humble. Whether taking direction from a Michelin chef on how to properly make aioli or learning how to cook a true Filipino style pork adobo from a dishwasher; good food should have no bounds."